News and Events
Register Now to Walk in the March for Babies: April 23
Published: March 16, 2016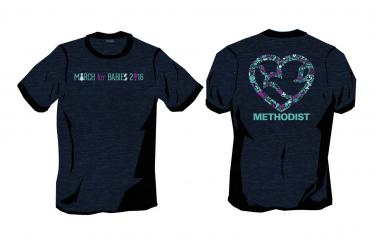 Register now for March for Babies on April 23, T-shirt deadline is April 12
Methodist Health System is a proud sponsor of March for Babies, a major fundraiser for the March of Dimes, set for Saturday, April 23, at Lewis and Clark Landing in downtown Omaha. March for Babies is a family-friendly event, complete with breakfast and plenty of fun kids' activities. The three-mile walk begins at 10 a.m. on Saturday, April 23, 2016.
Join Our Team
To register for the walk, participants must register for the Nebraska Methodist Health System team online at http://www.marchforbabies.org/team/NMHS
If you registered for March for Babies last year, you do not need to re-register. Simply click "Sign In" on the left side of the team home page to reactivate your account.  If you do not remember your user name or password, you may enter your email address on the login page to have them sent to you.

Only one registration per family is required. You do not need to register individually for each walker.

If you wish to donate to the NMHS team, you may do so online without registering as a walker. Donors will not receive t-shirts or walk updates, so please join our team if you would like to participate in fundraising, receive a shirt or incentives – even if you are unable to attend the walk.
Online contributions are preferred, but cash and checks (made out to March of Dimes) can be submitted to:
Tanya Patry, Marketing - 8511 W. Dodge Road (Inter-department Location G)
Team T-Shirts
To receive a Methodist March for Babies team t-shirt, walkers must submit an online donation to March of Dimes by April 12. A follow-up email will be sent within 48 hours of the registration regarding t-shirt sizes.
T-shirt eligibility:
Individuals: donation of $15

Families: donation of $10 for each family member (family of 4 = $40)
T-shirts will be available for pick-up prior to the walk. You will receive an email indicating pick-up date, time & location.
Fundraising Incentive
Each registered walker who donates or raises $200 or more will receive a special-edition Methodist sweatshirt.
About March for Babies
Funds raised at March for Babies support research and programs that help moms have healthy pregnancies and babies begin healthy lives. They will also be used to bring comfort and information to families with a baby in newborn intensive care.
Methodist delivers more babies and treats more pre-term infants in our Neonatal Intensive Care Unit than any other hospital in the region. Join our team and show your support of Methodist's commitment to our patients and the mission of the March of Dimes.
For additional information, contact: