News and Events
NICU Fundraiser Presented by Methodist Hospital VIP -- Casino Royale: April 22
Published: March 15, 2016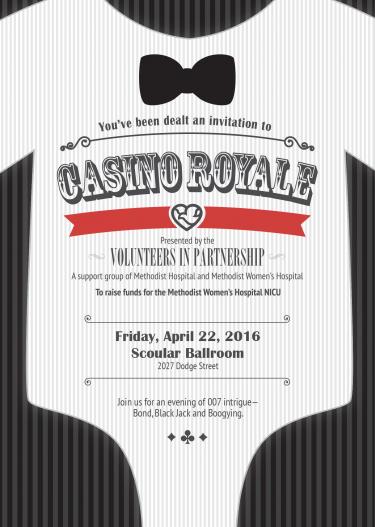 Reservation Deadline: April 15
Methodist Hospital Volunteers in Partnership presents the 2016 Casino Royale. The event, a benefit for the Methodist Women's Hospital NICU, will be held Friday, April 22, in the Scoular Ballroom at 2027 Dodge Street.
Attendees are invited to an evening of 007 intrigue. The evening will include a martini bar, silent auction, dinner, dancing and high stakes "gambling" for prizes.
Funds raised will support the NICU expansion project and specifically fund the cost of the HeRO monitoring system for the new NICU beds. HeRO is a state-of-the-art tool designed to detect signs of infection, illness, or other distress in our smallest patients before symptoms appear.
Event Information
For the invitation, click here.

For the RSVP/reservation form, click here.

Contact Linda Rajcevich at (402) 354-4522 or @email.
Please RSVP by April 15, 2016.