News and Events
MJE "My Memory Bag" Program Receives $3,000 Donation
Published: March 1, 2016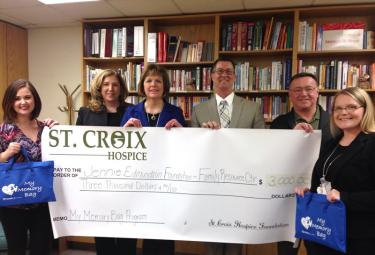 St. Croix Hospice Foundation presented a check for $3,000 to Methodist Jennie Edmundson's Family Resource Center to purchase additional My Memory Bags for Grieving Children. My Memory Bags are made available free of charge to preschool, school-age and teenage children who have experienced the death of a parent, grandparent, sibling or pet.
"When we lose someone special in our lives, it is hard to understand why. It is especially difficult for a child," stated Jean Armstrong, RN, Manager of Family and Community Health Resources at Methodist Jennie Edmundson Hospital. "One way to assist a child through the grieving process is by helping them remember and cherish the time that they had with their loved one."
Each memory bag is filled with grief and loss educational books, booklets, journal, photo album or key chain picture frame, small stuffed animal or small toy, grief and loss support group information and community resources.
To request a free My Memory Bag, contact Jean Armstrong at (712) 396-4200.