HR and Benefits
Zoo Membership Drive Runs Through March 27
Published: Feb. 29, 2016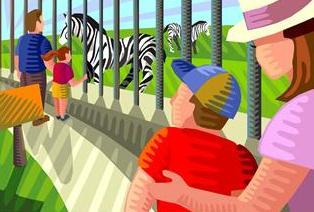 The 2016 Henry Doorly Zoo discounted membership drive for MHS employees runs through Sunday, March 27.
The zoo membership enrollment is available online directly through the Henry Doorly Zoo website. You will need to scroll to the bottom of the Zoo's membership page and select the "CLICK HERE TO PURCHASE YOUR MEMBERSHIP" link to start the enrollment process.
Employees who obtain a membership in their name and address will receive a $10 discount by entering the Seller Code and Discount Number provided below and selecting REDEEM during the Zoo online enrollment process.
To enroll online, you will need the following information:
You will be required to create a Zoo Membership User Name and Password at the beginning of the process (if you do not already have one). Or, if you have a current zoo membership card, there is an option to use your zoo membership card number.

You may receive a prompt upon login that reads "For verification, please provide one of the following additional identification."  Providing your personal email address allows the zoo to notify members of special events and notices in an environmentally friendly manner (i.e., instead of paper mailings). 

Seller Code - 18509

Methodist Employee ID number (the number you use to clock in and out).

Employee Membership Discount Number - 18509TM38 (for employee membership only). During the enrollment process, enter the discount number in the REDEEM box provided prior to entering your credit card information.

A personal credit card.

Existing zoo card membership number for renewals. Without the number, the zoo will assign a new number and send a new card.
Please note that Methodist Health System is not responsible for the Henry Doorly Zoo Membership Site or purchases made without the discount applied. Therefore, make sure you select the REDEEM button to receive the $10 discount.
To purchase a discounted membership at the Zoo:
If you do not wish to use the Zoo's online enrollment, you may pick up your 2016 membership application at the Zoo or download it here. Because the Zoo Guest Services cashiers are not able to access the discount codes to process your purchase onsite, you can either mail the application back to the Zoo or drop it off at the Guest Services window, and they will forward the application to the Membership Office.
To purchase the membership at the zoo and receive the $10 discount, the membership must be in the employee's name and address, and you will need to provide the following:
Your completed Zoo membership application form (application available online and at the Zoo)

A copy of the mhsintranet zoo membership page or this Employee Connections page with Seller code - 18509 and Employee Membership Discount Number - 18509TM38 

Full payment
For More Information
Select the "2016 Zoo Membership Drive" link under "ANNOUNCEMENTS" on the home page of mhsintranet.

For questions or assistance, please contact Henry Doorly Zoo directly at (402) 733-8400.