Awards and Achievements
Methodist Jennie Edmundson Unveils Vault for New Linear Accelerator
Published: Feb. 17, 2016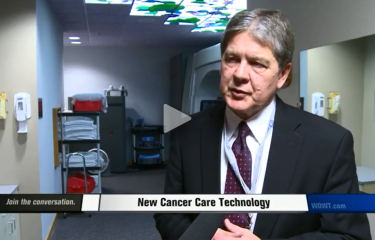 See news coverage of the latest developments at the Methodist Jennie Edmundson Cancer Center.
Steve Baumert, president and CEO of Methodist Jennie Edmundson Hospital, was among those interviewed about the near-completon of the vault that will hold the advanced, more precise TrueBeam linear accelerator, scheduled to arrive April 2.
Treatment with this new, more precise technology is expected to begin in July.
To date, $4.36 million of the $5 million capital campaign goal has been raised. To learn more and to help, visit jehfoundation.org
WOWT: Methodist Jennie Edmundson Unveils Vault for New Linear Accelerator 
Daily Nonpareil: Patients Speak Highly of Methodist Jennie Edmundson Cancer Center