Awards and Achievements
Congratulations to Recent Graduates
Published: Jan. 18, 2016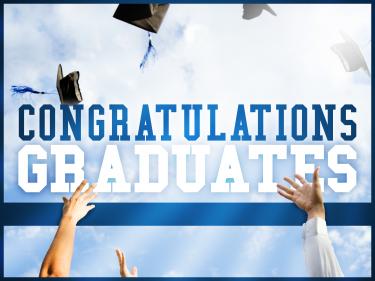 Kudos to MHS Staff for Enhanced Education
Congratulations go to the following MHS staff members who recently completed educational degrees. 
Committing to the continued enhancement of professional education is one of the ways we live the Meaning of Care. Knowledge gained through attainment of undergraduate and graduate degrees strengthens the individual and our organization as a whole, empowering staff to raise the bar ever higher on the delivery of patient care and service.
Watch for the posting of new graduates on Employee Connections. The following lists represent MHS employees' "Professional Data" updates submitted to Human Resources through Lawson Employee Self-Service for degrees earned October 1 - December 31, 2015.
REMINDER: Submit new degrees earned through the Lawson Employee Self-Service portal on mhsintranet.
Methodist Health System
Associate's Degree, Paralegal
Donna Wellwood-Clawson, Human Resources
Methodist Hospital
Associate's Degree, EMT/Paramedic
Joshua Alspach, Emergency
Bachelor's Degree, Nursing
Alyssa Martinez, Acute Care for Elders (ACE)
Terome Nunes, Centralized Telemetry
Christine Rock, Radiology Surgical
Stacey Watne, Medical Surgical
Amanda Wyant, Acute Care for Elders (ACE)
Melanie Zeimet, Critical Care
Master's Degree, Healthcare Operations Mgmt
Margaret Albano, Admitting Registration
Ashley Colburn, Rehabilitation
Master's Degree, Nursing
Barbara Johnson, Oncology
Rebecca VanWinkle, Critical Care
Master's Degree, Nursing Administration
Jennifer Jeha, Acute Care for Elders (ACE)
Katelyn Kauffman, Ortho Neuro
Sarah Malcom, Critical Care
Pamela Stout, Ortho Neuro
Master's Degree, Nursing Education
Amy Dimon, Acute Care for Elders (ACE)
Jacqueline Kussman, Cath Lab
Methodist Jennie Edmundson Hospital
Bachelor's Degree, Nursing
David Reineke, Ortho Neuro
Master's Degree, Healthcare Operations Mgmt
Michelle Kaufman, Radiation Oncology
Master's Degree, Public Health
Mallory Darais, Emergency
Methodist Physicians Clinic
Associate's Degree, Applied Science
Tierney Plowman, Health West Orthopedics
Associate's Degree, Medical Assistant
Brittany Janssen, Northwest Family Practice
Bachelor's Degree, General Education
Ashle McWilliams, Regency Family Practice
Bachelor's Degree, Healthcare Operations Mgmt
Lindsay Forrest, Regency Family Practice
Bachelor's Degree, Nursing
Mandy Dinsmore, Heart Consultants
Master's Degree, Healthcare Operations Mgmt
Aimee Hillyard, Northwest Radiology
Methodist Women's Hospital
Bachelor's Degree, Nursing
Kristin Weston, Labor Delivery
Master's Degree, Nursing
Stephanie Bricker, GYN OB
Master's Degree, Nursing Education
Linda Spittler, Labor Delivery