News and Events
Caring Campaign Pledge Cards Still Coming In - Celebratory Cupcakes: Oct. 21
Published: Oct. 7, 2015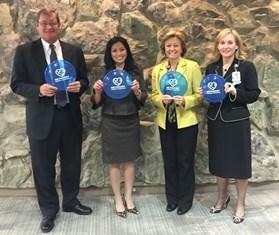 More Pledge Cards to Count
Right now the overall participation rate is at 79% - which matches last year's record. WAY TO GO! That is more than double the national average.
The final Caring Campaign totals will be released on Friday, October  9.
We will celebrate the good news with CUPCAKES!
To show our appreciation, Methodist Hospital Foundation will hand out cupcakes on Wednesday, Oct. 21.
Cupcake Schedule: Wednesday, October 21
Women's Hospital Cafeteria  
6:30 AM to 8:30 AM
2 PM to 4 PM
Methodist Hospital Cafeteria
6:30 AM to 8:30 AM
2 PM to 4 PM
MHS Corporate Cafeteria
11 AM – 1 PM
Cupcake deliveries will be made to departments that are not located on the main campuses and to those employees working night shifts.