Awards and Achievements
Robyn Shirley Is August DAISY Award Winner
Published: Aug. 26, 2015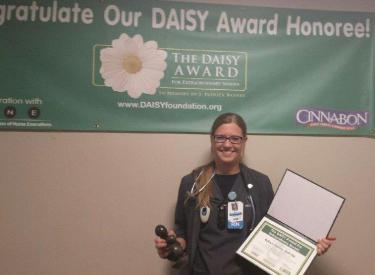 Robyn Shirley, BSN, RN, a nurse on the Methodist Hospital Cardiac Unit, was honored at a recognition ceremony on Thursday, August 20, as the August DAISY Award winner for Methodist Hospital and Methodist Women's Hospital.
She was nominated for the honor by the patient's daughter, who wrote that although Robyn had taken care of her father during previous hospital admissions, Robyn was not his nurse during this particular stay. "But she never missed a day of coming in to say 'hi' to Dad or to us," the daughter wrote. 
It was a particularly difficult time. The patient had just made his decision to enter hospice.
"Robyn was right there. She hugged us and held our hands," the daughter wrote, and within minutes the patient's physicians, care coordinator and social worker arrived to meet with the entire family. The daughter appreciated how smoothly the process went, and that her father was treated "with the utmost respect and dignity."
Speaking for the family, the daughter said, "Robyn continued to come in throughout her shift to check on us, to make sure we were all taken care of. She remained supportive throughout. When her shift was over, she came to say goodbye to us and told us what an honor it was to take care of my father and to meet us. She held his hand one last time. Robyn's care of her patients shines through daily! She makes it look so easy even when she is busy. Thank you, Robyn, for all that you do!"
The DAISY Award is a nationwide program that rewards and celebrates extraordinary skill and compassionate care given by nurses every day. Nurses can be nominated by anyone, including patients, family members, physicians, supervisors or their peers.
 To nominate a nurse at Methodist Hospital or Methodist Women's Hospital, visit www.bestcare.org/daisy.