Awards and Achievements
AgeWISE Nurses Graduate, Next Cohort Begins July 20
Published: July 10, 2015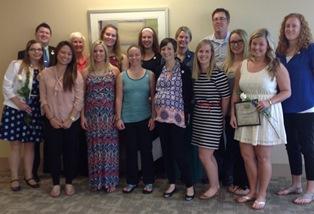 The following 16 Methodist Hospital nurses, representing seven units, graduated from the Geropalliative Care Nurse Residency Program on June 19 to become AgeWISE nurses. Within the next six months, the nurses will sit for certification in either Gerontological or Hospice and Palliative Care Nursing, or in their unit specialty as an outcome of the residency.
Cohort #7 AgeWISE Graduates:
6N Progressive Care Unit
Blake Smith
Jason Heimes

 

6S Oncology/Surgery Unit
Dana Salerno
Kim Hook

 

7N Intensive Care Unit
Lexy Quandt
Katie Pistillo

 

7S Acute Care for Elders
Heather Luchiari
Tilly Beaudette
Kellie Wachal
Jackie Escusar

8N Ortho/Neuro Unit
Rochelle Swanson
Liz Kirchner

 

 

8S Medical Surgical Unit
Alix Sandbothe
Emily Charvat

 


9N/S Cardiac

Megan Wessling
Courtney Woodward 
About the AgeWISE Program
The AgeWISE program promotes the crucial role nurses play in making the hospital experience better and safer for older patients. Methodist Hospital now has 122 AgeWISE nurses on staff infusing Geropalliative care nursing principles throughout the hospital.
Methodist Hospital continues to be a national leader in AgeWISE and has graduated more AgeWISE nurses than any of the original six pilot hospitals selected in 2010. This program is a collaborative between the hospital and our department of nursing at Nebraska Methodist College.
AgeWISE nurses report gaining enhanced knowledge in geropalliative care to provide more specific and sensitive care to their patients, as well as a sense of empowerment and increased confidence when having difficult conversations with patients, families, and physicians related to geropalliative care.  
New Cohort Begins July 20
A new cohort of 20 AgeWISE nurse residents begins July 20, 2015. The residents spend two days per month in classroom seminars and at various community clinical sites. They are learning knowledge and skills in Geropalliative Care which enhances their confidence and empowers them to provide evidence-based care to older adults and their families.
Cohort #8 AgeWISE Residents:
6 North

Rachel Coufal
Janet Syslo
Heather Scott
Mariah Selby

6 South

Amy Hartigan
Abby Hawthorne

 

7 South
Molly Knutson
Natalie Jones
Lindsey Romero
Stevi Roberts
Evelyn Merkel

8 North

Yen Nguyen

 

 

8 South

Brittany Seagren
Schyler Schriever

 

 

9 South
Katie Anderson
Therese Nevinski

Administrative

Coordinators

Marilyn Corum

 

 

MH ED

Nicole Kuehl
Jessica Lock

 

 

Palliative Care

Jenna Eich
AGES: AgeWISE Geriatric Education Seminar Begins Sept. 15
To empower more nurses and staff to learn and implement best practices in geropalliative care, a CEU program called AGES (AgeWISE Geriatric Education Seminars) was introduced at Nebraska Methodist College. The upcoming 2015 sessions of this quarterly interprofessional educational program are September 15 and November 3.
To register or for more information, click here. 
Questions?
To learn more about AgeWISE, contact Deborah Conley at @email.