Awards and Achievements
Kaitlin DeSoe - Methodist Women's Hospital Employee of the Quarter
Published: July 1, 2015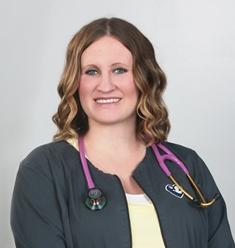 Kaitlin DeSoe, an Emergency Department nurse, is the Methodist Women's Hospital Employee of the Quarter for 3rd Quarter 2015. She was honored at a recognition ceremony on June 10. 
Kaitlin was nominated for the honor by a coworker who described her as "an amazing human being and an excellent nurse."
Among the many positive qualities listed were Kaitlin's upbeat attitude, helpfulness, confidence and commitment to going above and beyond for patients, families and staff.
As the nominator explained, "She is always thinking what would provide the best patient care and the best experience for our patients. I appreciate the excellence she expects from herself and her team, her compassionate care of our patients and their families, her pursuit of further knowledge and higher education to better care for our patients and the respect she shows each member of the team. Kaitlin is an incredible asset to the Emergency Room staff and a joy to work with!"
---
The Methodist Women's Hospital Employee of the Quarter award program began in the first quarter of 2013. Award nominations may be submitted by physicians, supervisors, coworkers and staff. Judging is based on how candidates embody the mission and core values of Methodist Women's Hospital: patient focus, integrity, excellence, learning, compassion, teamwork and respect.
All employees and staff at MWH are eligible to receive the Employee of the Quarter award. Employee of the Quarter award winners are automatically considered for the Caring Kind Employee of the Year award, as are Methodist Hospital's Employees of the Month.
To nominate a fellow employee for the Employee of the Quarter award, submit a completed application form to Bonnie Foreman. Each nomination is kept on file for review for two quarters. Application forms can be found in the e-forms library on under the "Forms" tab on the mhsintranet or click here.