Awards and Achievements
Mariah Selby Is April DAISY Award Winner
Published: April 3, 2015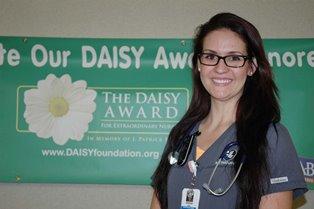 Mariah Selby, BSN, RN, from the Methodist Hospital Progressive Care Unit, was honored at a recognition ceremony on Thursday, April 2, as the April DAISY Award winner for Methodist Hospital and Methodist Women's Hospital.
She was nominated for the honor by a patient's daughter, who described Mariah as "a wonderful, compassionate nurse who took the time to get to know my mother, her family and friends, and tend to her needs."
At the time, both of the daughter's parents were Methodist Hospital inpatients, and the couple spent their 47th wedding anniversary in the hospital, two floors apart. The daughter described the hospital stay as difficult both physically and emotionally for her ill mother, who had been in and out of the hospital and was fearful of dying. 
The daughter greatly appreciated all the time Mariah spent with her mother and the daily telephone updates Mariah provided on how her mother was doing. She especially praised Mariah for noticing her mother was becoming depressed and then going out of her way to identify and provide something to bring her mother happiness. Mariah learned her patient's number one wish was a visit from her beloved dog.
"Mariah took it upon herself to ask family and friends for information about the dog, including calling me out of town," the daughter explained. "She completed all the paperwork necessary for the dog to visit. When I came to visit, all I had to do was wash the dog and bring her up."
Deeply grateful for the ways Mariah "went above and beyond" to care for her mother, including making the dog's visit possible, the daughter said, "She put a smile on my mother's face."
Maria is shown in the photo at left with Progressive Care Service Leader Jan Morgan at the DAISY Award Ceremony. 
The DAISY Award is a nationwide program that rewards and celebrates extraordinary skill and compassionate care given by nurses every day. Nurses can be nominated by anyone, including patients, family members, physicians, supervisors or their peers.
 To nominate a nurse at Methodist Hospital or Methodist Women's Hospital, visit www.bestcare.org/daisy.