Awards and Achievements
Rick Fox - Methodist Women's Hospital Employee of the Quarter
Published: April 2, 2015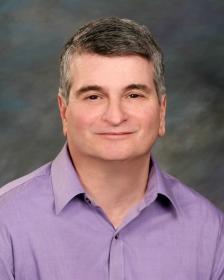 Rick Fox, Inventory Systems Coordinator for Sterile Processing/OR Supply, is the Methodist Women's Hospital Employee of the Quarter for 2nd Quarter 2015. He was honored at a recognition ceremony on March 13. 
Rick was nominated for the honor by coworkers who describe him as someone who "delivers The Meaning of Care by helping at a moment's notice, regardless if he's at lunch or in the middle of another project."
Rick was praised as "a valuable asset," "an extremely hard worker who constantly gives 150%" and "one of the many reasons Methodist Women's Hospital has much success."

His dedication, positive attitude and teamwork mentality have earned Rick kudos from the staff, who say, "We hope he knows how much he is appreciated by everyone who comes in contact with him every day."
---
The Methodist Women's Hospital Employee of the Quarter award program began in the first quarter of 2013. Award nominations may be submitted by physicians, supervisors, coworkers and staff. Judging is based on how candidates embody the mission and core values of Methodist Women's Hospital: patient focus, integrity, excellence, learning, compassion, teamwork and respect.
 All employees and staff at MWH are eligible to receive the Employee of the Quarter award. Employee of the Quarter award winners are automatically considered for the Caring Kind Employee of the Year award, as are Methodist Hospital's Employees of the Month.
To nominate a fellow employee for the Employee of the Quarter award, submit a completed application form to Bonnie Foreman. Each nomination is kept on file for review for two quarters. Application forms can be found in the e-forms library on under the "Forms" tab on the mhsintranet or click here.