Awards and Achievements
10 MHS Nurses Among Finalists for Omaha Magazine "Excellence in Nursing" Honors
Published: March 26, 2015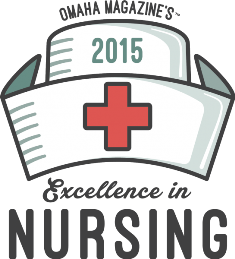 Excellence in Nursing Award Ceremony: April 23
Honoring nurses for their extraordinary contributions to patients, their families, the nursing profession and the health care system is the purpose behind the inaugural Omaha Magazine Excellence in Nursing Awards.

The awards, designed to honor the region's outstanding nursing professionals, will take place April 23 at the Omaha Press Club.

Nurses in 18 categories were nominated through open voting by the public in a process that detailed how the professionals' actions made an important difference in the lives of those they serve.

A prestigious national panel reviewed each submission and selected both the finalists and winners in each category. The finalists will be featured in the May/June issue of Omaha Magazine.

Sponsors of the Excellence in Nursing Awards are Nebraska Methodist College, Madonna Rehabilitation Hospital, LifeNet and College of Saint Mary.
METHODIST HEALTH SYSTEM FINALISTS

Cardiovascular
Kim Robison, Methodist Hospital

Oncology
Cheryl Bohacek, Methodist Hospital

Pediatrics – Neonatal
Jamie Jensen, Methodist Women's Hospital
Nancy Murray, Methodist Women's Hospital

Rehabilitation
Katie Pearson, Methodist Hospital
Lesha Murphy, Methodist Hospital

School
Jillian Sisson, Nebraska Methodist College

Women's Health
Sharon McArdle, Methodist Women's Hospital

Medical-Surgical
Alexei Boettcher, Methodist Hospital
Blake Kevin Smith, Methodist Hospital