Awards and Achievements
Nebraska Methodist College Recognized as American Heart Association Fit-Friendly Worksite
Published: Jan. 21, 2015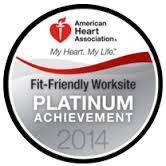 Nebraska Methodist College – The Josie Harper Campus has been recognized as a Platinum-Level Fit-Friendly Worksite by the American Heart Association for helping employees eat better and move more.
Nebraska Methodist College was one of six Platinum Award winners in Nebraska. In 2014, a total of 41 Nebraska worksites received Fit-Friendly Awards.
Platinum-level Fit-Friendly employers:
Offer employees physical activity options in the workplace.
Increase healthy eating options at the worksite.
Promote a wellness culture in the workplace.
Implement at least nine criteria outlined by the American Heart Association in the areas of physical activity, nutrition and culture.
Demonstrate measurable outcomes related to workplace wellness.
Nebraska Methodist College encourages physical activity throughout the workday by hosting Yoga@Lunch for employees, encouraging use of the NMC walking trail during work hours, and holding walking meetings. Employees also participate in Biggest Loser competitions, as well as walking and fitness challenges three to four times per year.
Visit the American Heart Association website for more information about the Fit-Friendly Worksites program and how it is helping to improve the health of Americans.