Awards and Achievements
Tom Sewick Is January DAISY Award Winner
Published: Jan. 14, 2015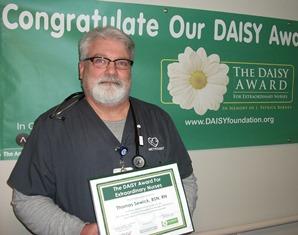 Tom Sewick, BSN, RN, CMSRN, a nurse in the Short Stay Unit at Methodist Hospital, was honored at a recognition ceremony on Wednesday, January 14, as the January DAISY award winner for Methodist Hospital and Methodist Women's Hospital. 
Tom was nominated for the honor by another Methodist Hospital nurse who wrote, "I have had the honor of working on the same unit as Tom, who is an outstanding mentor to work with and a wonderful person to have on our team."
Speaking first as a nurse, the nominator cited Tom's "excellent and thorough care," the "rave reviews" he receives and his "consistently favorable outcomes."
Speaking next as the wife of a patient recently under Tom's care, the nominator praised Tom for empowering her husband, who has no health care experience, to be extremely well-prepared for discharge from the hospital, self-care at home and important lifestyle changes.
"My husband was telling ME (a nurse) why he chose to wear his TED hose at home, why he needed to hydrate well, why it was important to keep his pain under control and the importance of staying active to help avoid blood clots."
The care experience deepened the nurse's appreciation for Tom, his excellent clinical assessment skills, decision-making capabilities and passion for educating patients.
She explained, "Tom goes the extra mile to educate patients and families on their care in and out of the hospital. He even quizzes patients before he lets them leave, taking the teach-back method one step further. His education method and care shows how much he is committed to the profession of nursing and our community. Tom truly does fulfill Methodist's promise of Best Care!"
The DAISY Award is a nationwide program that rewards and celebrates extraordinary skill and compassionate care given by nurses every day. Nurses can be nominated by anyone, including patients, family members, physicians, supervisors or their peers.
To nominate a nurse at Methodist Hospital or Methodist Women's Hospital, visit www.bestcare.org/daisy.