News and Events
Why I Came, Why I Stayed: Brandon Lavelle Says Methodist's Family Feel Leads to Better Patient Care
Published: March 20, 2023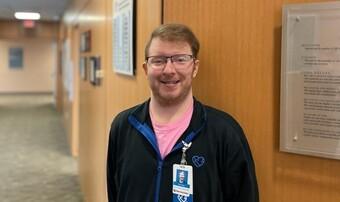 In "Why I Came, Why I Stayed," you'll get to know people who are making a difference every day at Methodist and how they contribute to providing The Meaning of Care.
Brandon Lavelle




Lead Patient Access Professional




Methodist Estabrook Cancer Center
Tell us more about yourself and your background with Methodist.
I currently work at Methodist Estabrook Cancer Center (MECC) as a lead patient access professional for labs and infusion therapy. My goal is to eventually become a supervisor.
I'm interested in how health care is changing on a daily and weekly basis. And I find it very interesting how we've come so far in technology within health care.
Outside of work, I enjoy playing and attending hockey games, spending time with my family, and playing video games with my friends.
Why Methodist? What attracted you to the organization?
I chose Methodist because my aunt works for Methodist as an LPN. She told me nothing but great things about the employees, management and environment at Methodist.
I've learned so much in my three years working here in different departments and clinics.
Health care, I found, was very challenging and stressful for everyone during the pandemic. But I think it opened my eyes to really connect with our patients and treat them like family when times were tough.
What is it about Methodist that keeps you coming back?
I love working at Methodist because of the staff and doctors I get to visit with. They really make you feel like you're a family working together to help assist our patients and their health care needs.
What sets us apart from our competitors is that we really care here. And we show The Meaning of Care every day by being compassionate in treating everyone we see. I think people should work here because of how well everyone works together and communicates.
We're a big family, regardless of if we work in the clinics or the hospitals. I love it here and wouldn't go anywhere else!